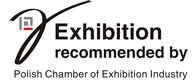 03.07.2018
Use the special offer for exhibitors prepared in connection with the jubilee edition.
27.06.2018
We present You the latest issue of Poznań Fair Magazine. We invite You to read both its paper and online version. In this issue we present the distinguished guests who visited Poznań International Fair in the recent months, provide reports on the spectacular fair and events, and present Arena Hall, which joined the group of objects managed by the Poznań International Fair. And moreover…
23.05.2018
This is the motto of the next year's edition of the TOUR SALON Fair of Regions and Tourist Products to be held on 1-3 February 2019 in Poznan.
More news
---

TOUR SALON: 1-3.02.2019
Business & Passion
This is where business meets passion - the 29th edition of TOUR SALON 2018 tourism fair will be held 9-11 February 2018. The business platform will gather professionals from the broadly defined tourism industry and all the tourism organisations, chambers and associations from Poland and many entities from abroad. In addition to the fair, substantively attractive accompanying events will be another pretext to visit Poznań.
Always here:
Polish regions | foreign regions | national tourism promotion centers |"Health SPAace" area where the latest SPA and wellness centre | health resort | sanatorium and hotel | "Extreme - Active Tourism" |"Business Tourism" - presentation of buildings with conference rooms, conference centres, and equipment for them |"Motor Coach Exposition" |TOUR SALON AIRPORT - an exposition of airports and air carriers |travel agencies | tour operators | accommodation operators | hotels | carriers | tourism service providers | publishers | Internet Web sites


At the same time

Visit also

Services