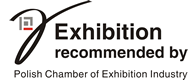 07.08.2016
We kindly invite you to read the latest issue of "Poznań Fair Magazine". We invite you particulary to read about the GOLDEN MARKETING CONFERENCE, which take place in November. The main topic of this year conference will be neuromarketing, innovation and personalization. PMT readers' interested in participation in the conference can take adventage of special discount.
05.08.2016
The summer is a great time to remind oneself what it was like in February in Poznań because just in a moment plans for next year will be set, in which your presence at TOUR SALON needs to be included
05.07.2016
As many as 56 fairs held by the Poznań International Fair were certified as "Fair recommended by the Polish Chamber of Exhibition Industry (PIPT)," which is Poland's most important entrepreneur organization in the industry.
More news
---

TOUR SALON: 17-19.02.2017
Business & Passion
This is where business meets passion - the 28th edition of TOUR SALON 2017 tourism fair will be held 17-19 February 2017. The business platform will gather professionals from the broadly defined tourism industry and all the tourism organisations, chambers and associations from Poland and many entities from abroad. In addition to the fair, substantively attractive accompanying events will be another pretext to visit Poznań.
Always here:
Polish regions | foreign regions | national tourism promotion centers |"Health SPAace" area where the latest SPA and wellness centre | health resort | sanatorium and hotel | "Extreme - Active Tourism" |"Business Tourism" - presentation of buildings with conference rooms, conference centres, and equipment for them |"Motor Coach Exposition" |TOUR SALON AIRPORT - an exposition of airports and air carriers |travel agencies | tour operators | accommodation operators | hotels | carriers | tourism service providers | publishers | Internet Web sites



At the same time

Visit also

Services