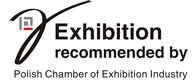 18.04.2019
May the Easter time be filled with all colors of the rainbow, spring-like atmosphere and smile, and may it be a break from everyday life.
25.02.2019
See the official video of TOUR SALON fair.
11.02.2019
This tourist festival was attended by nearly 200 exhibitors representing 16 countries, and the entire Passions fairs block was visited by 40 thousand people!
01.02.2019
See the foto galery.
28.01.2019
The first Armenian-Italian operator in Armenia specialized in creating unique travel experiences in Armenia.
28.01.2019
So much to discover.
21.01.2019
TOUR SALON is an event during which tour operators can establish cooperation with DMC companies and thus complement their offer with tourist services in various destinations in the world. This year will be very exotic.
21.01.2019
Already at the beginning of next year, on February 1-3, 2019, the 30th jubilee edition of the TOUR SALON Trade Fair of Regions and Tourist Products will be held along with the TOUR SALON Blog Meeting.