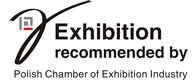 TOUR SALON 2019 - movie relation
See the official video of TOUR SALON fair.
This tourist festival was attended by nearly 200 exhibitors representing 16 countries, and the entire Passions fairs block was visited by 40 thousand people! The heart of TOUR SALON was the stage, or actually two scenes, on which great travelers appeared, including Jarosław Kuźniar, Tomasz Zubilewicz, Miłka Raulin and Mateusz Waligóra.

The exhibitors' stands also tempted with numerous attractions. You could try your hand at the climbing wall from the Eagles' Nests Trail, learn the secrets of the production of the Meissen porcelain, take a virtual tour of the Energylandia theme park, or smell the forest of the Świętokrzyskie region  in the 5D cinema capsule. The Fair visitors were much interested in the possibility of relaxation in particular regions and attractions worth seeing, as well as hiking or bicycle trails recommended.
See the official video of TOUR SALON fair.