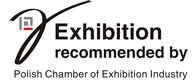 Why it is worth participating in TOUR SALON
TOUR SALON is a venue for the presentation of Polish and foreign offers of regions, travel agents, tour operators, health recreation facilities, spas, hotels, carriers, insurers or publishing companies. [ see the thematic scope of the Fair ]
Who visits the Fair?
Business |
_______________________
The TOUR SALON Fair is mostly visited by the representatives of Polish companies and entities related to the tourist sector. From year to year, the number of foreign representatives is growing.
The last edition of TOUR SALON was attended by the guests from such countries as Spain, Belarus, Croatia, Lithuania, the USA, Italy, Belgium, Bosnia and Herzegovina, Greece, Latvia, Germany, Portugal and the United Kingdom.
The leading group of visitors in 2017, i.e. as many as 62%, were employees delegated to visit the Fair.
Every third professional visiting TOUR SALON was a company owner, CEO, manager or director.
In the group of persons professionally associated with the industry, the Fair was most often visited by people responsible for PR or marketing, or self-employed (e.g. couriers on package tours).
Passion |
_______________________

TOUR SALON attracts people who are planning to go on short trips, longer trips or holidays. Our visitors are looking both for offers of organized tours and inspiration for independent trips for the upcoming Easter, spring outing or holiday.
Unique place | For three days, TOUR SALON is a platform for communication and exchange of experience. The representatives of all industry chambers and associations are present here.
What do you gain by registering for TOUR SALON?
_______________________
TOUR SALON Business Planner | We offer you a simple tool that will make it easier for you to meet business clients interested in face to face conversations at the Fair. During the last edition, hundreds of meetings were organized. This will allow you to have every minute of the Fair well planned!
_______________________
Good date | The February date, before the peak of the season, is a good time to suggest the ideas for a spring outing, a weekend out or a holiday trip.
_______________________
Tourism Trade Fair | You will have an opportunity to have your special offer advertised for free in the TOURISM TRADE FAIR
_______________________
TOUR SALON Blog Meeting | You take part in a matchmaking meeting with travel bloggers and influencers during the fourth edition of the TOUR SALON Blog Meeting.
_______________________
Promotion campaign on the website | You will get an opportunity to have your company logo placed on the website, in the "Already with us" tab, which will increase the promotion of your brand.